Books
Sat Dharam Kaur N.D. has written multiple books on the topic of women's health and naturopathic medicine.
The Complete Natural Medicine Guide to Breast Cancer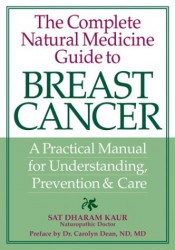 Despite the risk of developing breast cancer, many women still have a limited knowledge of its causes and prevention. The Complete Natural Medicine Guide to Breast Cancer uses the most recent research studies and clinical evidence to explain the causes of breast cancer and techniques for its prevention.
Some of the topics covered are:
Comprehensive explanations for the causes of breast cancer — hereditary, hormonal, environmental
Identifiable environmental risks
Self help detoxification programs, diet plans and herbal recommendations
Natural medicine strategies which complement conventional medical treatments and promote recovery
Psychological support
Protective factors are highlighted and valuable exercises and worksheets for breast care are included, such as The Breast Health Balance Sheet, an extensive questionnaire that helps to determine risk factors.
Written in an empathetic and accessible style, The Complete Natural Medicine Guide to Breast Cancer is an excellent resource for women seeking breast cancer information.
Sold on Amazon
The Complete Natural Medicine Guide to Women's Health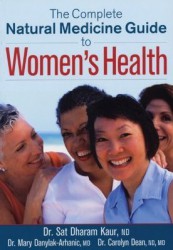 A comprehensive source of information for all aspects of health for women.
More and more women seek natural remedies to treat health problems, either as an alternative or a complement to conventional health care.
The Complete Natural Medicine Guide to Women's Health provides clear and comprehensive information on integrating natural medicine treatments into a healing program for the distinctive health concerns of women.
It includes:
The healing systems of Traditional Chinese Medicine, the Chakra System and the Western Medicine Model, and integrated healing
Natural healing methods, such as diet and nutritional supplements, homeopathy, acupuncture, tissue salts and herbal medicine
The body's natural rhythms
Seasonal inner cleansing and detoxifying
Natural medicine strategies for balancing hormones
Recommended dietary guidelines for women
The menstrual cycle and the menopause
Pregnancy and birth, and natural methods of birth control
Conditions of the female organs, common female disorders (such as cystitis, thyroid imbalance, osteoporosis and osteoarthritis) and ongoing health issues and aging
60 health conditions, covered in thorough detail. Symptoms are described, likely causes identified, and treatment strategies are prescribed, which may include diet, exercises and yoga, and meditation and visualization.
With authoritative information clearly presented, The Complete Natural Medicine Guide to Women's Health is the definitive source for women looking to integrate natural and conventional medicine.
Sold on Amazon
A Call to Women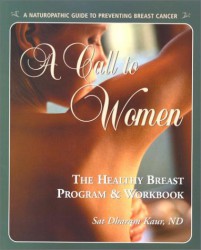 This is a compassionate, indispensable resource and companion designed for individuals and groups. A Call to Women features practical nutritional, physical, emotional and spiritual self-help exercises, with organic and herbal recipes for cleansing and refreshing the body. The chapters include discussions on Risk Factors, Self-Examination and Diagnostic Tests, Hormones, Environmental Issues, Detoxifying Systems, and Activating the Immune Systems.
Dr. Kaur also includes information about:
Psychological Means of Preventing Breast Cancer
Spiritual Practices for Preventing Breast Cancer
The Breast Health Diet, including recipes
Sold on Amazon